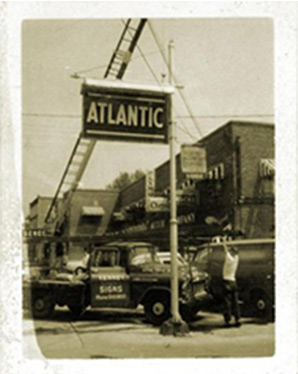 Kenney Signs Inc., established in 1949, specializes in all types of sign design, manufacturing, lettering, graphics, installation, and repair.
"We Are A Full Service Sign Company" serving the entire Maryland, West Virginia, Pennsylvania, and Virginia region. We also manufacture and ship anywhere within the United States.
Due to our vast experience, our company offers a virtually unlimited list of capabilities. We utilize the highest quality materials and components in the sign industry, apply the latest in technology, and use of equipment. From design – to manufacturing – to installation, we are second to none. We give our customers a powerful resource, and recipe for success. On-site advertising is a key element which is often overlooked, it brings potential customers thru the front door, and if your sign doesn't look good, you don't look good. One of our custom built, eye-catching signs will only help promote the positive identity, and growth of your business!
If you are not already familiar with our company, and your first contact with us is online, we would like to hear from you. Let us know what your needs are, and we will be more than happy to help. Even if you are unsure of exactly what kind of sign you want, we can easily guide you through the process. We are here to help! You can reach us by using the contact form, or just simply give us a call at either location. We look forward to hearing from you…
Be sure to view our extensive portfolio on the following pages. It is just a small sample of what we have to offer…
Thank you for your interest in Kenney Signs Inc.